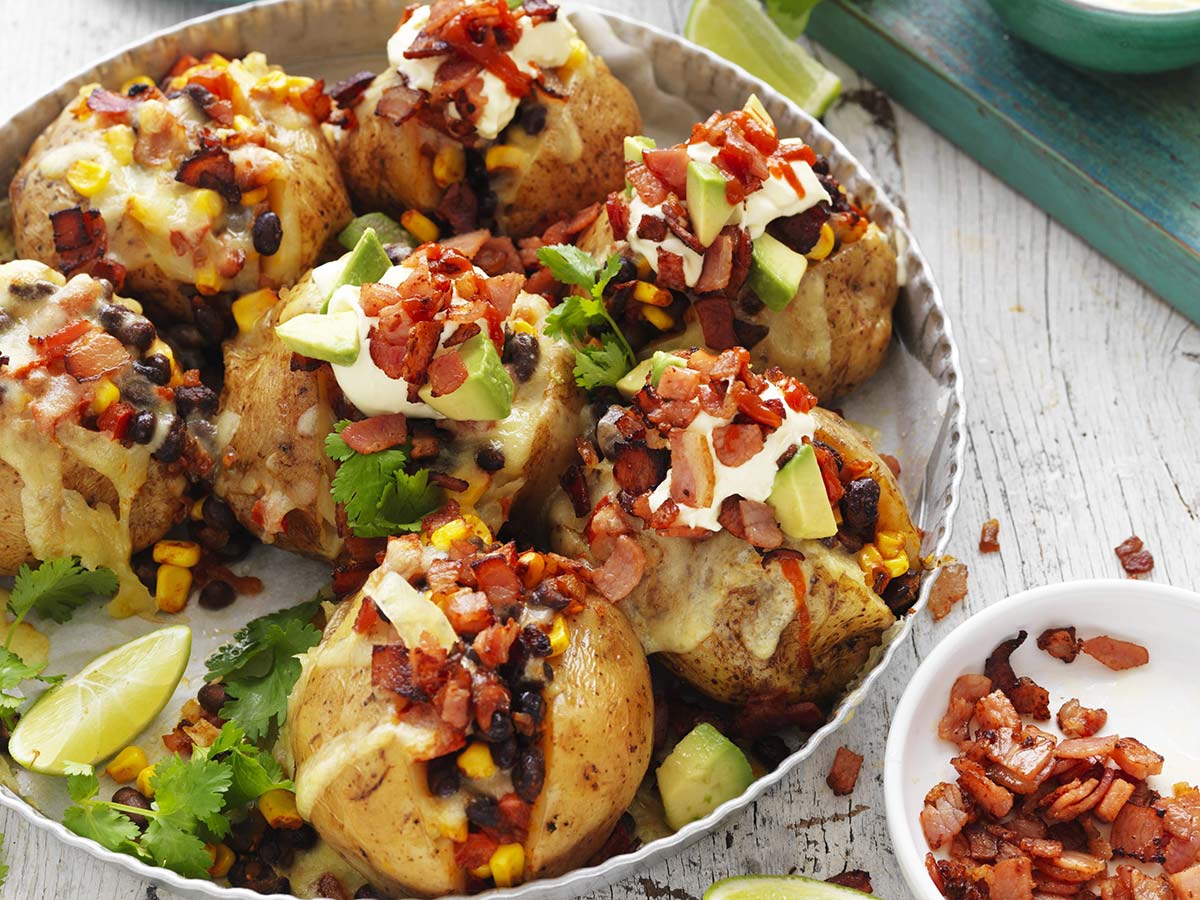 Crispy Bacon-Loaded Mexican Potatoes
PREP TIME
COOK TIME
SERVES
INGREDIENTS
250g Australian rindless bacon rashers, chopped
8 (about 275g each) unwashed (Sebago) potatoes, scrubbed and dried (see tip)
1 ½ tablespoons olive oil
1 small red onion, finely chopped
2 garlic cloves, crushed
1 teaspoon smoked paprika
400g can black beans, drained and rinsed
125g can sweet corn kernels, drained
1 ripe tomato, finely chopped
1 teaspoon sriracha hot sauce (+extra to serve if liked)
1 ½ cup grated tasty cheese
Extra sour cream, diced avocado and coriander leaves, to serve
METHOD
Preheat oven to 200°C fan-forced. Using a fork, pierce potatoes in 6 places. Individually wrap each potato in foil and place directly onto an oven rack. Bake for 1 hour 15 minutes or until tender when tested with a skewer. Unwrap potatoes and set aside to cool slightly.

While potatoes are cooking, heat 2 teaspoons oil in a large non-stick frying pan over medium-high heat. Add bacon and cook, stirring often, for 8-10 minutes until crispy. Transfer to a plate lined with paper towel. Set aside.

Add remaining 1 tablespoon oil to pan and heat over medium heat. Add onion and garlic and cook, stirring occasionally, for 4-5 minutes until tender. Stir in paprika and cook for 1 minute. Add black beans, corn, tomato and sriracha sauce. Stir to combine. Cook, stirring often, for 2-3 minutes until tomato softens.

Cut potatoes halfway through lengthways. Holding the hot potato with a clean tea towel, gently squeeze the base to open the top. Place potatoes into a shallow baking pan lined with baking paper. Evenly spoon bean mixture into potatoes. Sprinkle with cheese and half of the bacon. Bake for 15 minutes or until cheese melts and potatoes are hot

Serve potatoes topped with sour cream, remaining bacon, diced avocado and coriander leaves. If liked, drizzle with extra sriracha sauce to serve.