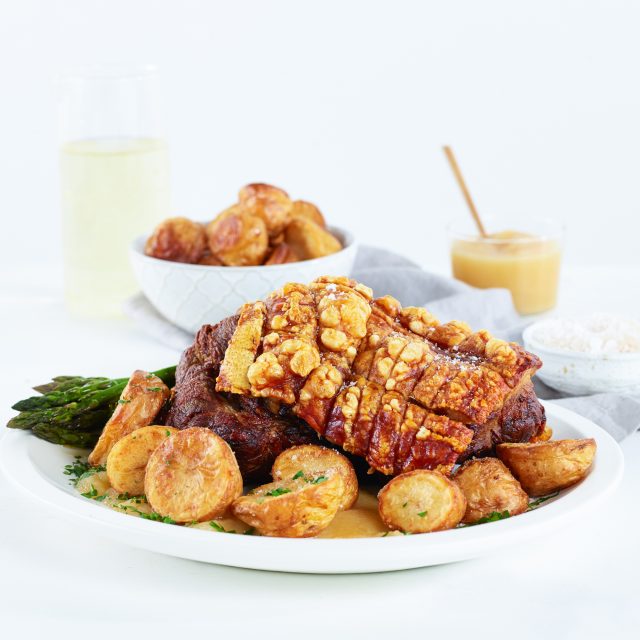 Pan-Fried Pork Belly with Simple Glaze
PREP TIME
COOK TIME
SERVES
While pork shoulder roasts beautifully in the oven, it can also be the rockstar of your barbecue as well. This recipe has been written for traditional lidded gas barbecues. The same results can be achieved in a kettle barbecue with low-moderate coals. As all barbecues are unique, if your crackling gets too dark, cover loosely with foil and continue cooking. For very best results, always buy your pork shoulder a day before you want to cook it and leave it uncovered in the fridge overnight so that the skin dries out – this achieves best crackling.
INGREDIENTS
1.2kg boneless pork shoulder, rolled
1 tablespoon oil
sea salt flakes and freshly-ground white pepper
apple sauce, to serve
METHOD
Preheat barbecue with outer burners on medium-high and middle burners on low. Rub the pork with oil, then season generously with salt and pepper.

Place the pork on a roasting rack set over a roasting pan, then add 2 cups water.

Bake for 1 hour with the lid down, then reduce heat on outer burners to low and cook for one 1 hour with the lid down, topping up water from time to time.

Increase outer burners' heat to high again and bake for a final hour with the lid down. Allow to rest, then carve and serve with apple sauce.