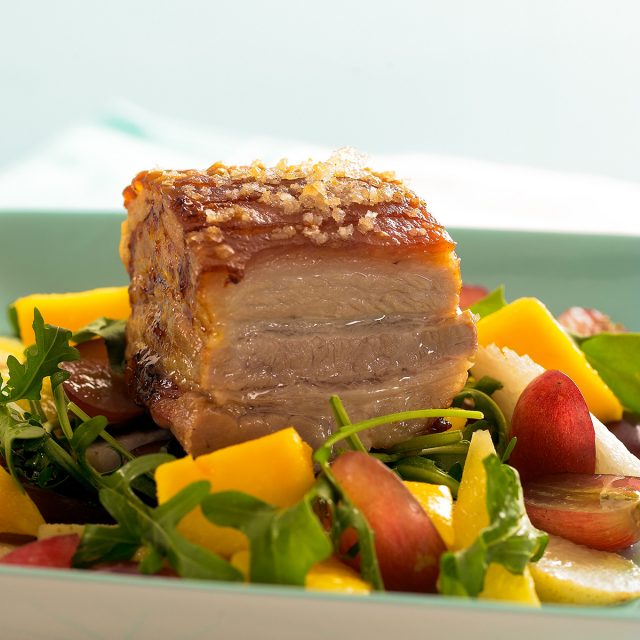 Crispy roasted pork belly with summer salad and a citrus dressing
PREP TIME
COOK TIME
SERVES
INGREDIENTS
1-1.5 kg piece of pork belly
¼ cup oil
2 tablespoons flaked sea salt
100g rocket leaves, washed
1 cup grapes, halved
1 Nashi pear, sliced thinly
1 mango, sliced thinly
Dressing
Rind & juice of 1 lime

½ cup lemon juice

¼ cup olive oil

2 teaspoons sugar

1 teaspoon Dijon mustard

2 tablespoons water
METHOD
Using a very sharp knife score the pork rind in thin lines across the surface, a Stanley knife is a great tool for this. Then, rub the oil & salt into the rind.

Place the pork belly onto an oven rack and bake in the preheated oven at 220 degrees Celsius for 20 minutes.

Reduce heat to 170 degrees Celsius for a further 40 minutes per kg. Allow to stand 10 minutes prior to serving.

For the salad, toss together the rocket leaves and prepared fruit in a large bowl. Shake together the dressing ingredients and pour over the salad just prior to serving.

To serve, slice the pork into thick slices or a small squares. Place salad into the centre of a serving plate and top with pork belly, then garnish with citrus wedges.
GENERAL INFORMATION
If the crackling softens while slow cooking, place the belly under a hot gas grill for 2-3 minutes until crispy.