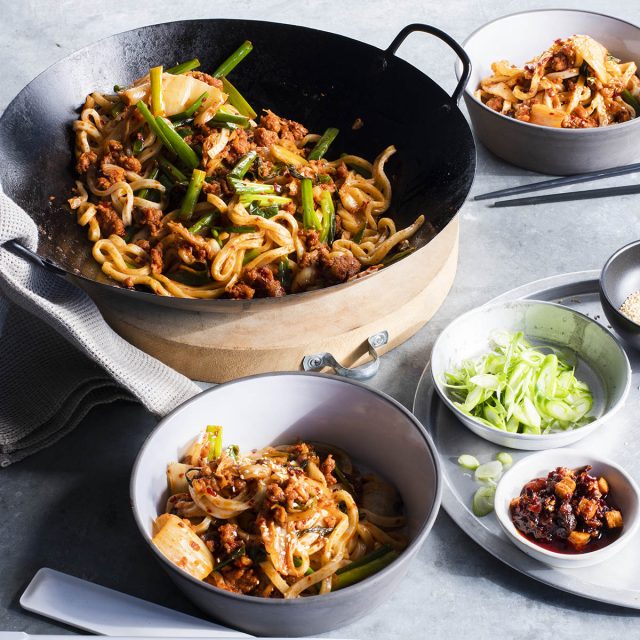 Pan-Fried Pork Belly with Simple Glaze
PREP TIME
COOK TIME
SERVES
INGREDIENTS
500g udon noodles
600g pork belly rashers, skin and top fat removed (should be left with 500g meat)
¼ cup (60ml) peanut oil
2 tbs maple syrup
400g chopped Korean style kimchi, plus 2/3 cup (80ml) kimchi pickling juice
1 bunch green shallots, white part thinly sliced, green part cut into 4 cm batons
2 tbs peanut chilli condiment (from Asian supermarkets)
Juice of 1 lemon
Toasted white sesame seeds to serve
METHOD
Bring a large saucepan of water to the boil. Add noodles and cook as per packet instructions.

Strain and rinse under cold water. Drain and set aside.

Whiz pork belly in a food processor until finely chopped.

Place oil, white part of shallots, kimchi juice, maple and pork belly mince in a cold large non-stick fry pan.

Place over high heat and cook from cold, once mixture begins to sizzle cook, stirring frequently, for 15 minutes or until pork is golden and most of the liquid has been absorbed.

Stir through kimchi, green shallot batons, chilli condiment, lemon juice and noodles and cook, stirring constantly, for 2 minutes or until noodles are coated and glossy. Divide between bowls, scatter with sesame and serve immediately.