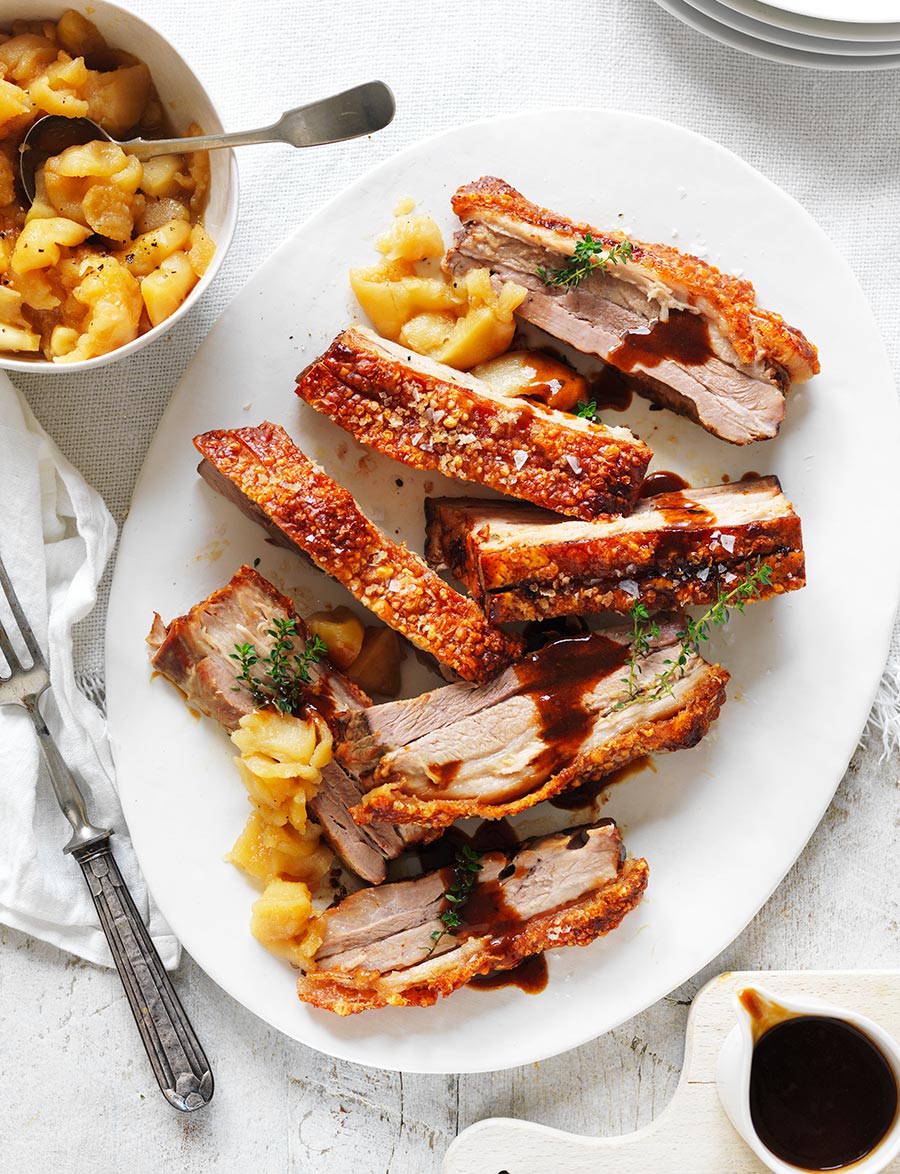 MAPLE AND MUSTARD ROAST PORK LEG WITH SLAW
PREP TIME
COOK TIME
SERVES
INGREDIENTS
5kg pork leg (bone in) skin on
6 medium parsnips
2 tbs olive oil
2tbs wholegrain mustard, plus extra to serve
2 tbs salt flakes
1 tsp cracked pepper
1 cup maple syrup
½ savoy cabbage, thinly shaved (we used a mandolin)
½ cup parsley leaves
50g parmesan, shaved (we used a peeler)
Finely grated zest and juice of 1 lemon
METHOD
Place pork leg on a tray and chill overnight exposed to dry out the skin. (You can ask your butcher to do this if you order your pork leg in advance.)
The next day, preheat oven to 250 C (fan forced)
Line a large baking tray with baking paper. Place parsnips cut side down on tray and drizzle with 1 tablespoon of oil.
Use a sharp knife to score the skin of the pork, making sure to not cut through to the meat but still achieving a clean cut through the skin (you can ask your butcher to do this).
Place salt, pepper, mustard and remaining 1 tablespoon of oil and mix to combine. Use hands to spread all over the pork, getting into all the crevices.
Place on a roasting rack that will sit over your roasting tray.
Transfer veg to the bottom of your oven then place oven rack with pork directly over the veg, this way the tray will catch all the juices.
Roast for 30 minutes or until pork skin is beginning to crackle and white bubbles are appearing on the surface all over.
Reduce oven to 140 C, drizzle pork with half the maple to cook. Remove the parsnips after 1 hour, leaving the pork in for a further 2 hours or until pork is tender and reads 70 degrees Celsius in the centre on a meat thermometer.
Pour over remaining maple and set aside.
For the slaw, toss cabbage, parsley, parmesan, lemon zest and juice in a bowl. Serve with pork and warmed parsnips with extra mustard alongside.