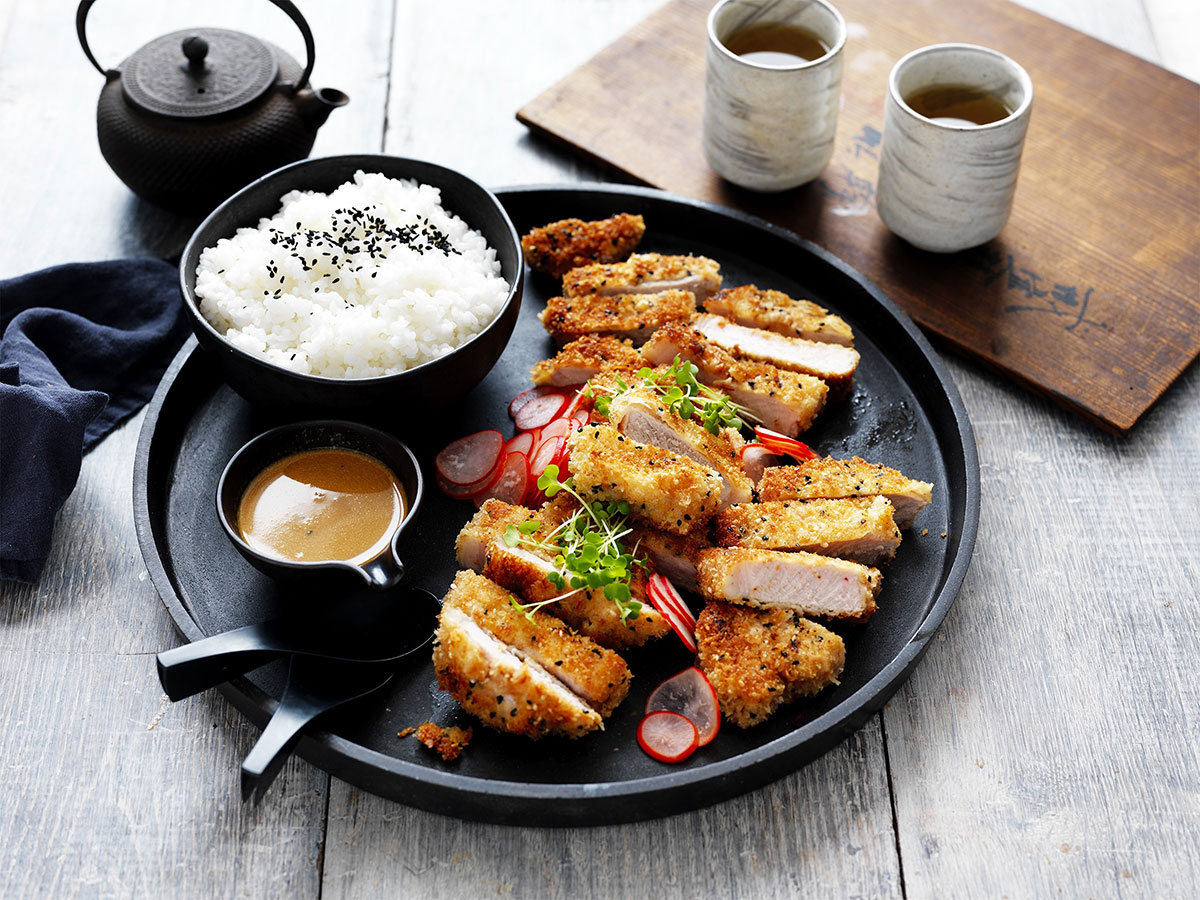 Tonkatsu Pork with Teriyaki Wasabi Dipping Sauce
PREP TIME
COOK TIME
SERVES
INGREDIENTS
6 x 130g pork loin steaks
¼ cup rice wine vinegar
6 small radishes, trimmed and thinly sliced
½ teaspoon salt
½ cup plain flour
2 eggs
1 ¼ cups panko breadcrumbs
2 teaspoons sesame seeds
2 teaspoons black sesame seeds
¼ cup vegetable oil, for frying
micro herbs and steamed sushi rice, to serve
Teriyaki wasabi dipping sauce
1/3 cup teriyaki sauce
2 teaspoons wasabi mayonnaise (see tip in 'General Information' tab)
METHOD
Combine rice wine vinegar and ½ teaspoon salt in a bowl. Add radishes and stand for 20 minutes.

Meanwhile, place flour onto a plate and season with salt. Whisk eggs in a shallow bowl. Combine breadcrumbs, sesame seeds and black sesame seeds in a shallow bowl.

Dust each pork steak with flour, dip into egg and evenly coat in breadcrumb mixture, pressing the crumb mixture into the pork. Place on a tray and chill for 20 minutes.

To make the teriyaki wasabi dipping sauce, whisk teriyaki sauce and wasabi mayonnaise in a bowl. Set aside.

Heat oil in a large frying pan over medium heat. Cook pork, in batches, for 3-4 minutes on each side or until golden and just cooked through.

Drain radishes. Slice pork crossways into thick strips. Arrange pork on a serving platter. Sprinkle with micro-herbs. Serve with radishes and teriyaki wasabi sauce.
GENERAL INFORMATION
Wasabi mayonnaise is available in the Asian food section in large supermarkets. If preferred, serve the pork tonkatsu with store-bought Tonkatsu sauce.  It's available in the same section in the supermarket.