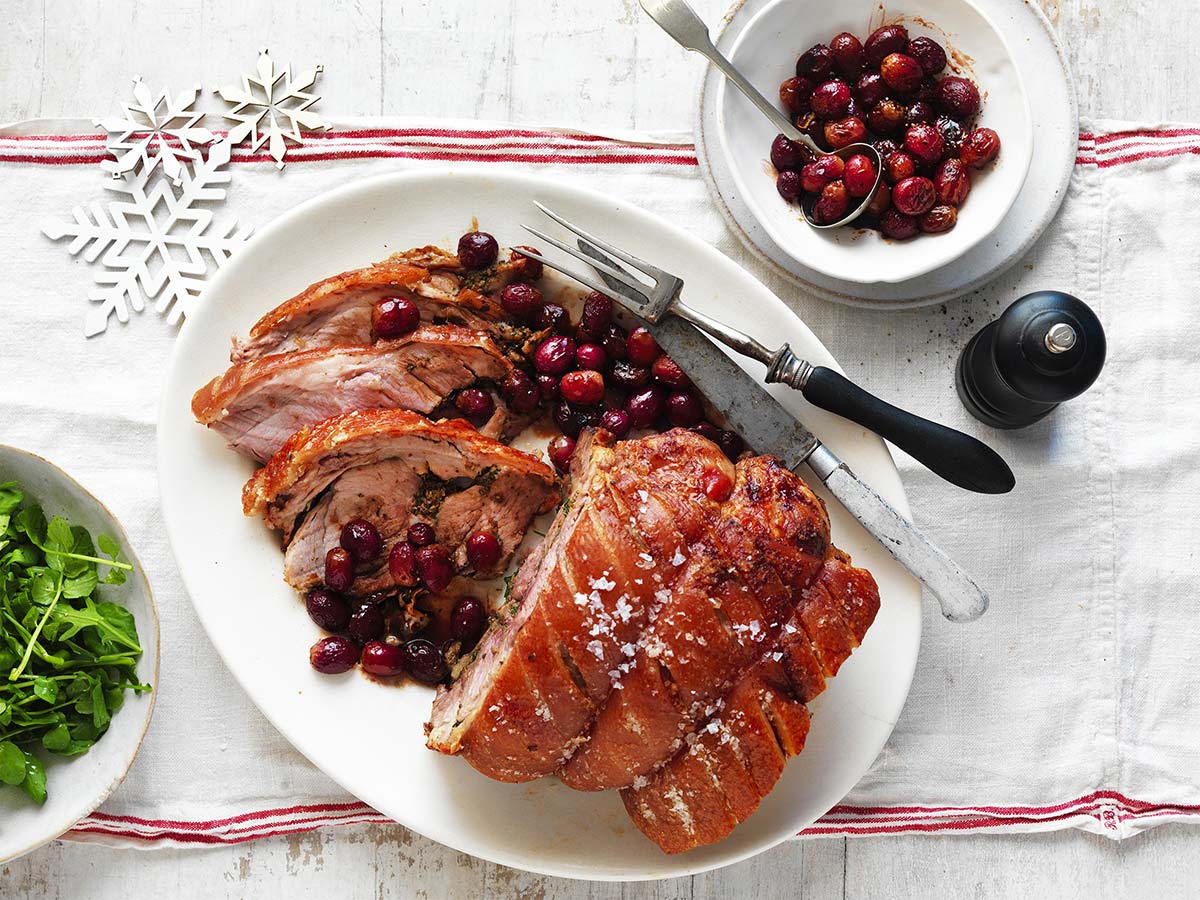 Porchetta with Balsamic Roasted Grapes
PREP TIME
COOK TIME
SERVES
INGREDIENTS
2.5kg boneless pork shoulder, unrolled and skin on (see tip)
Kitchen string
1 ½ tablespoons fennel seeds
2 tablespoons olive oil
5 garlic cloves, chopped
½ teaspoon sea salt flakes
½ teaspoon dried chilli flakes
¼ cup thyme leaves
1 ½ tablespoons rosemary leaves
8 sage leaves
2 tablespoons grated lemon rind
Leafy green salad, to serve
Balsamic roasted grapes
400g seedless purple grapes, stems removed
Olive oil, for drizzling
3 teaspoons caramelised balsamic vinegar or balsamic glaze
METHOD
Preheat oven to 240°C

Roast fennel seeds in a small frying pan over medium heat until fragrant and golden. Place in mortar and pestle or food processor/blender to crush the seeds. Add oil, garlic, chilli flakes and herbs and pulverise until a coarse paste forms. Stir through lemon rind.

Score pork rind at 1cm intervals. Turn over the pork so skin side is down and meat side up. Using the tip of a sharp knife, prick the pork meat all over to help infuse flavours (do not cut through the fat). Rub with the fennel seed mixture and spread out evenly.

Roll the pork tightly back up to enclose the filling. Secure at 2cm intervals with kitchen string.

Rub pork rind dry with paper towel then rub with oil then salt. Place into a roasting pan and roast for 40-45 minutes until crackling is puffed and golden.

Reduce heat to 180°C and roast for an additional 25-30 mins per kg (approx. 1.5hrs). Once done, remove from the oven and set aside to rest for 15 minutes.

Meanwhile, place grapes on a baking tray and drizzle with oil and balsamic vinegar or glaze. Toss to coat. Season with salt and pepper. Roast for 12-15 minutes until tender.

Slice pork and serve with roasted grapes and a leafy green salad.
GENERAL INFORMATION
For the best crackling, place the pork skin side-up onto a tray lined with baking paper and refrigerate overnight to dry out the rind.
Remove the pork from the fridge 1 hour before scoring the skin