With the warmer weather well and truly here, it's time to get your entertaining plans locked. We asked top WA chefs for the lowdown on how to win hosting this season, with pork the star of the show.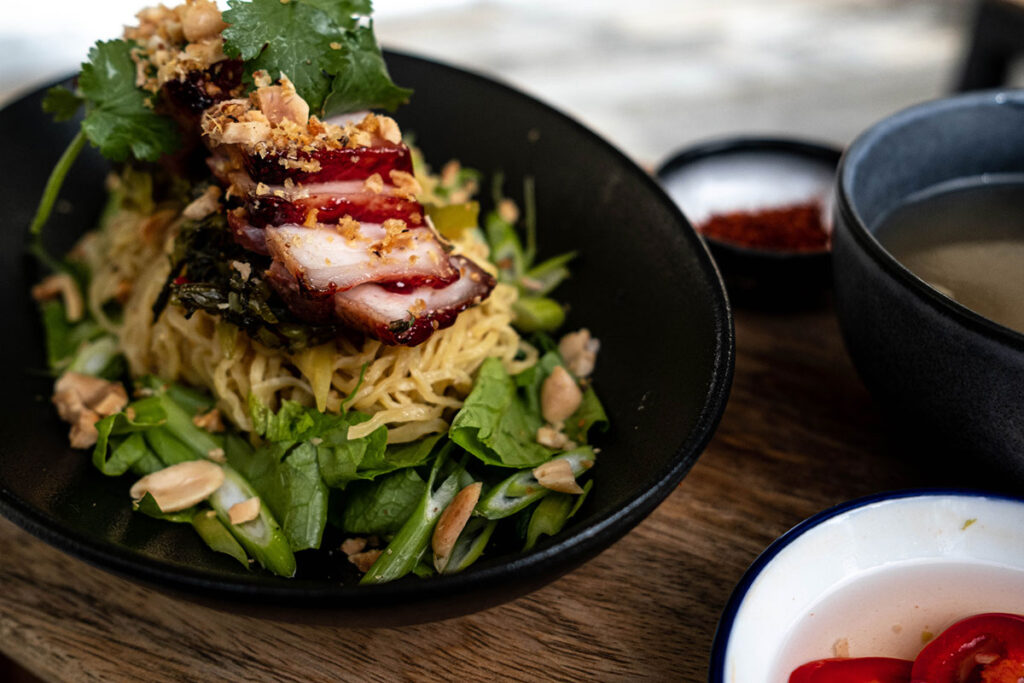 Spring has finally arrived in Perth, and now the rainy days are becoming less frequent we can get out in the sunshine and dive into the season's produce at farmers' markets, picnics and of course alfresco. Many restaurants have already launched their spring menus, and for home entertainers it's the perfect time to get the barbecue out of storage.
From asparagus to artichokes, berries and broad beans, spring is a bountiful time of year when many fruit and vegetables are in season. In the protein stakes, we're all familiar with spring lamb, but it's also a great time of year for other meats, pork in particular.
DJ Lee, owner of Perth banh mi institution Le Vietnam, says spring is the perfect season for his signature sandwich. "Banh mi is the ideal spring and summer snack," he says. "When it comes to spring, people want something fresh and quick that you can eat walking in the sun."
"One of our biggest sellers is the crispy roast pork. We've kept the flavours very traditional and filled it with the usual suspects – carrots, jicama and coriander." If he's at home, though, Lee's simple dining idea for a long Sunday lunch is crisp roast pork served over noodles or rice with fish sauce, with pickled vegetables on the side and a fried egg on top.
Looking to the Swan Valley, Sandalford Estate chef Alan Spagnolo might serve sophisticated winery fare by day, but at home, he likes to keep things a little more simple. He cites his crisp pork belly served with watermelon and a caramelised sherry-vinegar dressing as a classic Sandalford spring-menu dish that with a few tweaks can be replicated at home.
"Coming into spring and summer, pork for me is about keeping things simple and pairing it with something that can cut through the richness," he says.
"This dish is very easy, we caramelise down a bit of sherry vinegar and add it to a sugar syrup. It's like sweet and sour, but the sherry gives it depth. We then slow-cook the pork to crisp the skin up."
Restaurateur Will Meyrick, of Longrain and Mama San fame, has recently made Perth his home, and is due to open Will St, a 120-seater restaurant and bar in Leederville, in early October. Diners can expect refined Asian shared plates and bar snacks paired with classic cocktails given a twist.
Glance at any of his past menus and you might spot the likes of twice-cooked pork belly, Penang curry of pork or char siu. Spring (and perhaps travel restrictions) has him dreaming of German beer halls and Oktoberfest. So he'd start with a pork knuckle – a shoulder would also work beautifully here – cook it slowly, then take it into more familiar territory with the glaze.
"I would brine it with garlic, coriander root, black peppercorns and bay leaves," Meyrick says. "Wash it, braise it in the oven for about two-and-a-half hours, take off the fat, then glaze it with a marinade made from miso, mirin, sake, sugar and soy – you get wonderful, almost char siu-style caramelised pork.
"You can easily do this at home, and it's great served with kimchi or pickles." Whatever the flavour, a shared table spread generously is one sure way to make this a season to remember.
This article was produced in partnership with Linley Valley Pork.