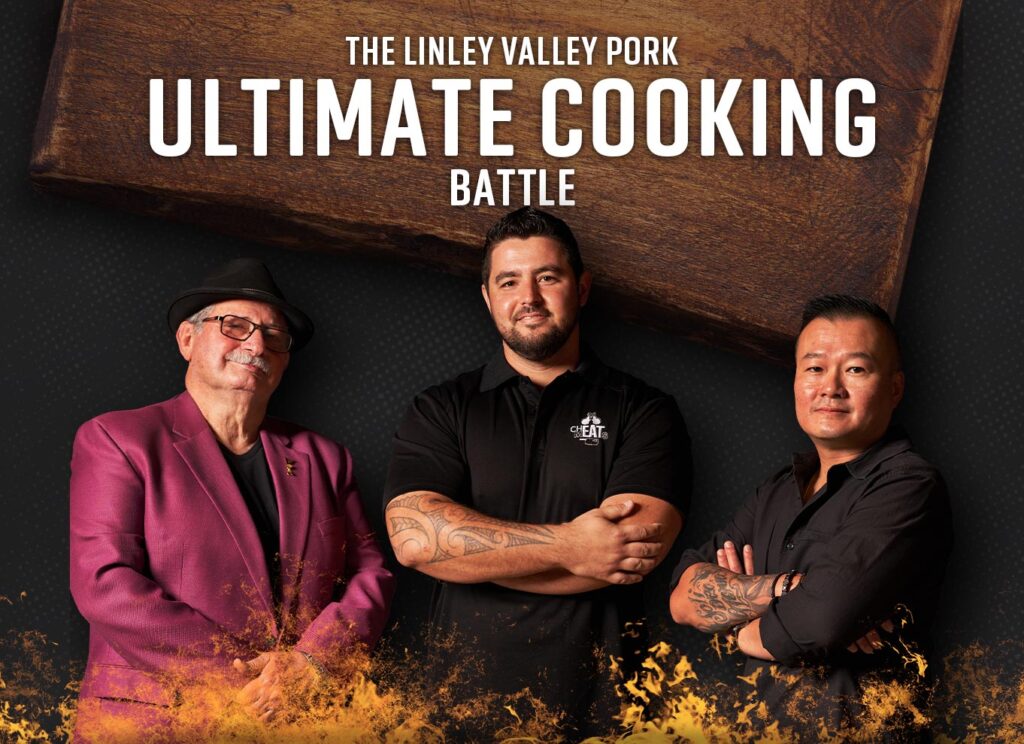 Get the Fever for cooking with Linley Valley Pork by tuning in to our Ultimate Cooking Battle
Join us on the 07 June 2022 as West Coast Fever's Jess Anstiss, Jhaniele Fowler and Stacey Francis-Bayman show off their cooking skills – and the flexibility pork can bring to your table – in Linley Valley's 'Ultimate Cooking Battle.'
Our three contestants will have just 40 minutes to whip up their favourite pork dish, live from our professional kitchen, with the winner taking home the challenge trophy (and ultimate glory).
Our panel of judges includes Vince Garreffa, a name synonymous with Mondo's Butchers who brings an impressive 56 years in the business. He is joined by Cory Frayling, one half of the brother team from CheatMeats. Cory is no stranger to cooking contests after coming runners-up on Channel 9's Family Food Fight back in 2018. He's also familiar with being filmed while putting out quality dishes – he's appeared in ads for Woolworths and regular appears in live cooking demos for Channel 9 News Perth. Our panel is rounded out with Vincent Lim, a popular and experienced Executive Chef who is also a prolific video content creator and Ambassador for TourismWA amongst other accolades.
The Fever players will prepare and present a dish they'd happily make at home for dinner or lunch, using a Linley Valley Pork product to fuel their bodies. Their dishes will then be judged on three key factors: proper representation of dish and how the dish represents the name of the dish, a proper balance of ingredients and the all important overall taste of their offering.
Want to play along at home?
Our contestants have nominated the dishes they'll be preparing on the day – you can click the links below to find the recipes.
Jess will be dishing up a tasty and fun San Choy Bow, Jhaniele a succulent and filling Pork and Veggie Stir Fry while Stacey will be preparing a juicy Tonkatsu Pork with teriyaki Wasabi Dipping Sauce which can be served with sides for a meal or made in bulk for a sophisticated finger food party offering.
The diversity of the dishes exemplifies the variety pork offers – in both taste, texture and health benefits. Pork – including mince, the star of Jess's San Choy Bow is high in protein and rich in many vitamins and minerals, with less saturated fat than beef mince. A reasonably priced product, pork mince is a great option for sausages, lasagne, pasta sauces, meatballs, burgers, sausage rolls, ragouts, and spring rolls.
Pork Scotch, the main player of Jhaniele's Stir Fry is the economical option across scotch steaks and can be used for any kind of grilling, smoking or pan frying – think skewers, Fajitas, burritos, rice paper rolls. The loin steaks featured in Stacey's katsu dish are a premium, lean and tender cut also perfect for grilling, BBQ or pan-frying.
Whether you're looking for inspo for whipping up a fuss-free weeknight meal or weekend lunch at home with family and friends, our Ultimate Cooking Battle is sure to show you how easily it can be done with versatile, healthy and tasty pork!
Jess
Jhaniele
Stacey