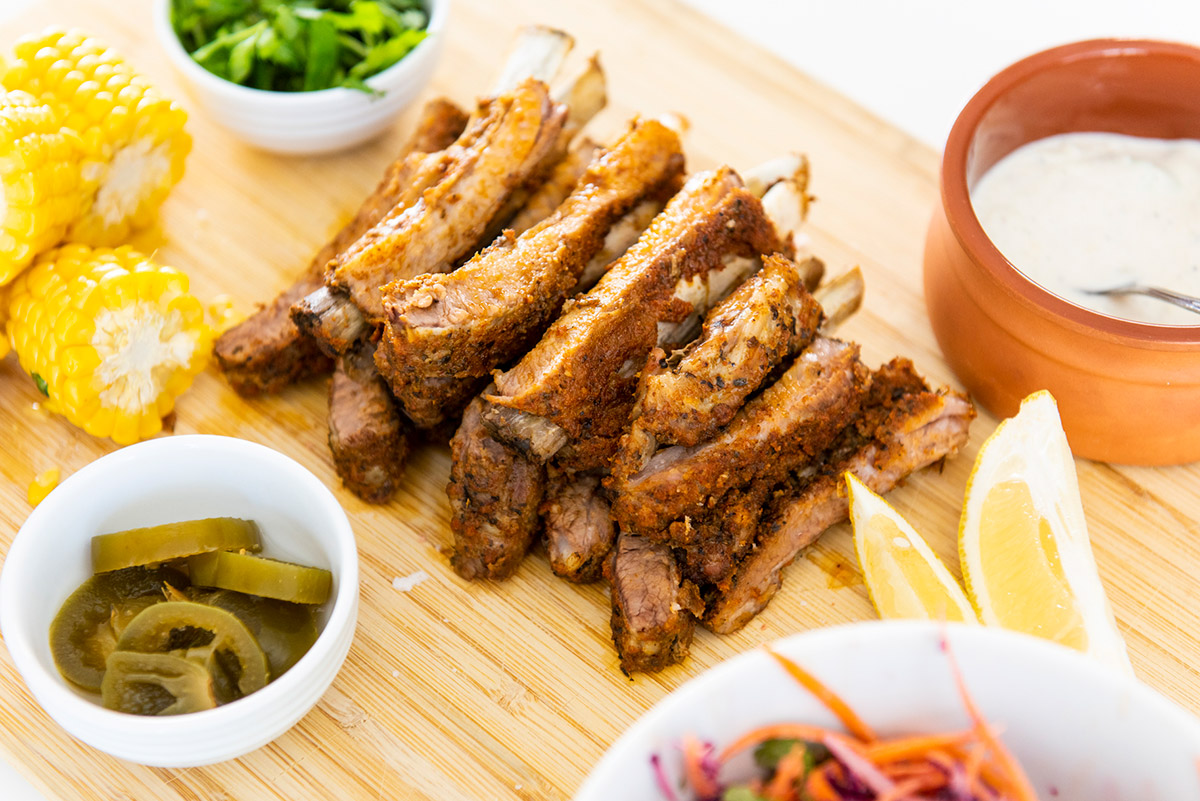 CAJUN RIBS with PARMESAN RANCH DIPPING SAUCE
PREP TIME
COOK TIME
SERVES
INGREDIENTS
1kg Linley Valley pork back ribs
4 tsp extra virgin olive oil
2 heaped tsp smoked paprika powder
2 heaped tsp garlic powder
2 heaped tsp onion powder
2 heaped tsp dried oregano
1 flat tsp cumin powder
chilli powder, to taste
salt and pepper
DIPPING SAUCE
2 flat tbsp whole egg mayonnaise
4 heaped tbsp natural yoghurt
½ cup finely grated parmesan cheese
salt and pepper
½ lemon, juiced
1-2 large spring onions finely sliced
METHOD
Pre-heat oven 150 degrees Celsius. Rub olive oil over the front and back of the ribs. Mix all the powders and spices together with salt and pepper and rub all over the front and back of the ribs.
Line foil on the bottom of a large baking tray, place the ribs meat side up in a single layer then cover the tray with more foil. Put in the oven on the middle shelf for 1 hour. While ribs are cooking, prepare your side dishes.
To make the dipping sauce stir together all the ingredients (except for the spring onions) in a small bowl. Once well mixed then gently stir through the spring onions. Turn ribs over and cook for another 30 minutes bone side up with the foil still on.
Turn ribs again, meat side up for another 30 minutes still keeping the foil on. After a total cooking time of 2 hours ribs should be very tender and moist. Cut into single pieces along the bone. Serve ribs with dipping sauce and your favourite side dishes.